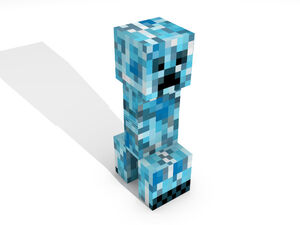 The Multi-Color Creeper, is a Creeper Mob that can be dyed an color you would like it to be.
Information
The Multi-Color Creeper appears as a standard Creeper. However, it can be tamed by dying it another color. Once tamed, the Creeper will follow you around unless you tell it to stay.
Attributes
The Mult-Color Creeper has the same attributes of that of a standard Creeper.
Drops
If killed, the Multi-Color Creeper will drop the following:
Dye (1 of all colors)
Gunpowder (1-3)
Colors
The Multi-Color Creeper comes in the following colors:
Untamed Edition
Tamed
Green
Lime
Yellow
Orange
Pink
Red
Blue
Purple
Black
White
Color Run
Mod
The Multi-Color Creeper is included in the following mods:
Color Run Mod
Creeper Mod Pack #1
Gallery
Community content is available under
CC-BY-SA
unless otherwise noted.