Uranium Ore is an ore between Y=17 and Y=6 in the Overworld and between Y=30 and Y=2 in the Ferro Dimension. It is radioactive, meaning staying near it for over a minute in real time can cause in-game nausea, slowness, or for too long, even withering. Uranium ore, in all editions, needs to be smelted to make uranium, which can be used as a fuel (500 sec). Nine uranium ingots can be crafted into an uranium block. It has the same radioactive effects as its ore counterpart. Uranium blocks can fuel furnaces for 5 real-life kiloseconds. (5,000 sec) To mine, it needs an iron or diamond pick, taking 3 and 2 seconds respectively. Uranium cannot make tools. This and plutonium can be made into nuggets.
Uranium Ore
Type of Block
ore, raw materials
Stackable?
64
Tool Used
iron/diamond pick
Obeys Physics?
no
Luminosity
2
Transparency
Opaque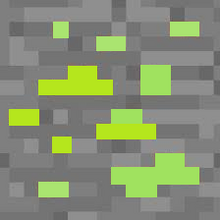 Crafting
Spitter
U=Uranium Ingot, H=Hopper, N=Nether Star
Spitter
The Spitter spits objects up to 100 blocks away. BR: 30. Stackable (64)
Community content is available under
CC-BY-SA
unless otherwise noted.